Europe's most famous E-commerce promotes the Enduro European Championship 2022 thanks to the collaboration set up with Maxim, the current promoter of the championship. 24MX markets the best brands in the industry throughout Europe at great prices. On the 24MX's website it is possible to buy spare parts, clothing and accessories useful for carrying out motorcycle activity at every level; the products, in fact, are suitable to meet the needs of both entry level riders and the more expert ones. 24MX's mission is to bring the passion for off-roading directly to your home. To be even closer to its customers, 24MX has decided to support the European Enduro Championship for the 2022 season with several initiatives.
During the first round of the championship, 24MX will support the new trophy dedicated to 50cc motorcycles, which will take place on a single test for the current year, with several prizes dedicated to the top three classified; the trophy will be called the 24MX 50 CC Trophy. The initiative aims to promote and encourage this particular bike.
24MX will also be Main Sponsor of the third round of the championship which will acquire the name of the brand or "24MX ROUND 3#". The second-to-last stage of the season will be staged from July 23rd to July 24th in Finland, in Sipoo. Another initiative to demonstrate the commitment and support of the brand towards the championship. In addition to the above, all the extreme special stages of the European championship will be named 24MX Extreme Test.

At each event, the championship leader of the Overall class will be given the Leader 24MX's plaque. At each stage the first classified plaque in the overall chart will be delivered to the leader, until the last stage when the 24MX plaque would be given to the winner of the overall chart!
Being able to take home consistent times in every single special stage and avoid incurring time penalties will be the correct interpretation keys to conclude the competition in front of everyone and win the special 24MX plaque.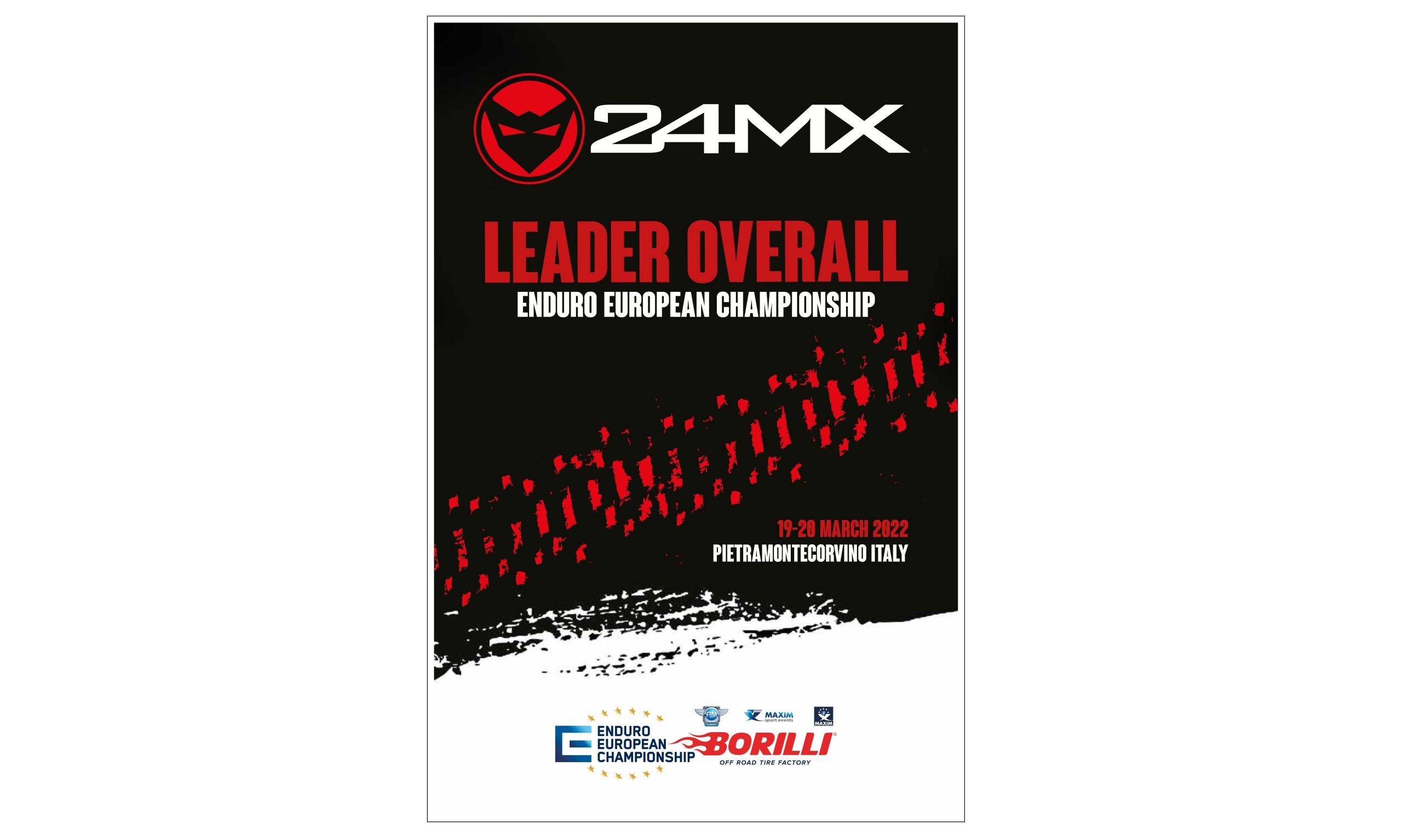 24MX will also bring the event to your home, allowing anyone who wants to experience full 360-degree of the championship. Thanks to the special onboard videos, made directly by the track inspector of the event, you can comfortably view the race and special tests from your mobile phone or computer. The videos will be published on the social media pages of the event (Facebook – Instagram). The videos can also be a useful tool for drivers who want to revise the special tests before competition day.
Maxim and 24MX will also organize some "giveaway" to engage with all the followers. A signed race jersey of one of the protagonists of the championship might become yours!
There are really many news for this 2022 and we look forward to starting the season!
Visit now the official website of 24MX and don't miss the offers!
Martina Riboni – Press Officer Enduro European
pressoffice@enduroeuropean.com
www.enduroeuropean.com – www.maximpubblicita.com –  www.italianoenduro.com
Follow Enduro European on